Aloha Safety Face Masks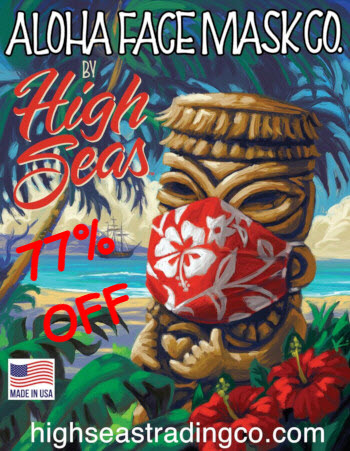 Hawaiian print Aloha Face Masks
77% off all Aloha Face Masks!!
After an emergency call from Pomona hospital in March 2020, we began making masks and with our US factory we were delivering within days after their overseas shipment was seized by the government. More than 30,000 masks were donated to VAs, hospitals, and people in need which was funded by our sale of the Aloha Face Masks which were created to bring the ALOHA SPIRIT to these scary times. We want to give back to those who have supported us and are offering all designs at a massive discount!
Because you can be fun, fashionable, and safe!!
We realize many places no longer require masks, but they are still required in many workplaces, medical and travel.
These are made of tightly woven combed cotton which is doubled layered 205 thread count and exceeds the recommended 180 thread count by a Wake Forest Medical study that concluded 180 performs as well as a surgical mask.
SIZING GUIDE
Small - Length 7.5" and Width 5" Fits most youths and petite women
Medium- 8" length and 5.5" Width fits most women and many men.
Large 9" Length and 6" Width for People with a little bigger head like me.

Categories
5 Categories In List
Products
20 Products On Page